2019 Show – Octarine: The Colour of Magic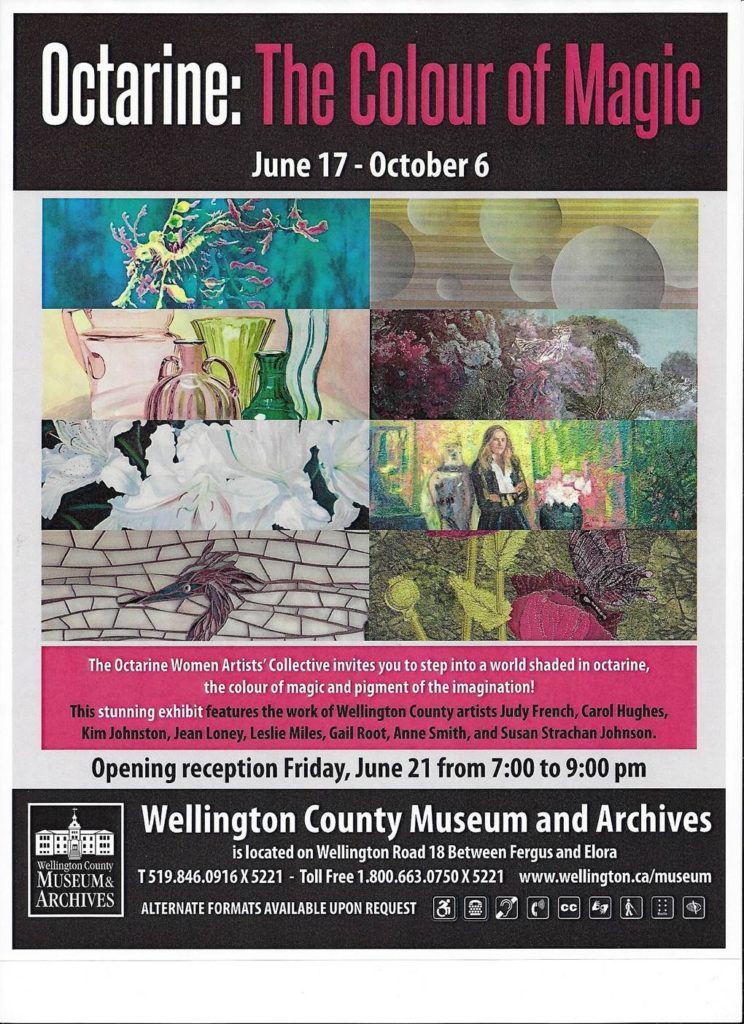 The Octarine Women Artists' Collective invites you to step into a world shaded in octarine, the colour of magic and pigment of the imagination!
"Octarine: The Colour of Magic" is the title of the sixth annual exhibition by the group of eight women from Wellington County, Ontario.  For this year's show, the group decided to portray the world as if it were coloured in octarine, which according to the late lamented fantasy writer Terry Pratchett, is the eighth colour of the spectrum, visible only to wizards and cats.
Participating artists in the show are: Judy French (oil); Carol Hughes (watercolour); Kim Johnston (oil, acrylic, watercolour); Jean Loney (glass mosaic); Leslie Miles (pastel, silkscreen ink); Gail Root (oil); Anne Smith (fibre art); Susan Strachan Johnson (mixed media).
The public is invited to an opening reception on Friday, June 21, 2019 from 7:00 to 9:00 pm. 
The exhibition takes place June 17 to October 6, 2019 at the Wellington County Museum and Archives, located between Fergus and Elora at 0536 Wellington Road 18, N1M 2W3, telephone 519-846-0916 x 5221.  The museum is open from 9:30 am – 4:30 pm on weekdays, 1:00 – 5:00 pm Saturdays and Sundays, closed on holidays. Admission is by donation.
Past Shows
2018 Show – Momentum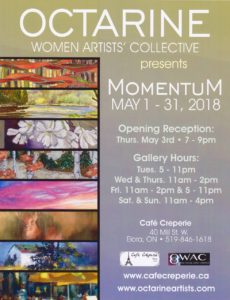 Our 2018 show, Momentum, features new work by returning artists Carol Hughes, Kim Johnston, Jean Loney, Leslie Miles, Gail Root and Susan Strachan Johnson, and by two new members of the group:  Judy French and Anne Smith.
The exhibition takes place from May 1 – 31, 2018 at Cafe Creperie, 40 Mill St. West in Elora, Ontario.  Hours are Tues. 5 – 11 pm; Wed. & Thurs. 11 am – 2 pm; Fri. 11 am – 2 pm and 5 – 11 pm; and Sat. & Sun. 11 am – 4 pm.
Opening reception is Thursday, May 3 from 7:00 – 9:00 pm, open to the public.
2017 – A Land for All Seasons
This year's show, A Land for all Seasons, is a collection of celebratory images of Canada. The styles range from realism to abstraction, and reflect the different ways each artist honours the peace, the openness, and the freedoms of this country.
The exhibition takes place from February 5 to March 5, 2017 at the Homer Watson House and Gallery in Kitchener, Ontario.  Gallery hours are Tuesday – Sunday, 12:00 – 4:30 pm.
Opening reception for the show is Sunday, February 5 from 2:00 – 4:00 pm.  There will also be a meet the artist event on Saturday, February 18 from 1:00 – 3:00 pm.
Homer Watson House & Gallery is located at 1754 Old Mill Road, Kitchener, Ontario, N2P 1H7 (former village of Doon).  Telephone: 519-748-4377  www.homerwatson.on.ca
2016 Exhibition in Oakville, Ontario
The beautiful Joshua Creek Heritage Art Centre is the setting for the 2016 Octarine Women Artists' Collective exhibition, titled "Elemental".
The show will take place in Joshua Creek's gallery, a beautiful, airy renovated barn.  Gallery hours are Tuesday to Sunday, 1:00 – 4:00 pm.
Opening reception for the show, with artists present, is Sunday, April 3, 2016 from 2:00 – 5:00 pm.
Joshua Creek Heritage Art Centre is located at 1086 Burnamthorpe Road, Oakville, Ontario (just east of Trafalgar Road).  Telephone: 905-257-4730.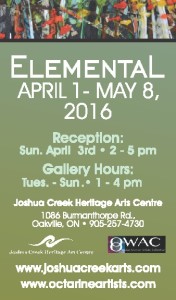 2015 – Encore
After the success of our first show in 2014, the Octarine Women Artists' Collective is busy making plans for our second annual show, titled Encore.  The dates for 2015 are:  May 1 – May 10.  The venue remains the same as last year, Studio 404 at 404 York Road in Guelph, Ontario.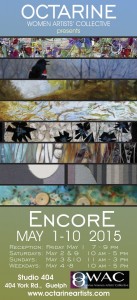 2014 – Eight Dimensions
Here is a little more information about us and about how this show came about.
About the Group
The Octarine Women Artists' Collective is a group of eight artists who have come together to exhibit our art.
The name Octarine is taken from an imaginary colour which is supposedly the eighth colour in the spectrum, seen only by wizards and people of extraordinary perception. It is used by the group as a metaphor for what is beyond the obvious, as we strive to say more in our art than merely depict the world around us.
As seasoned artists, we each create in different mediums and move in diverging directions.  As we exhibit together and familiarize ourselves with each other's art, however, we are inevitably influenced by it. Thus our use of octarine is more than just a colour metaphor; it is like an eight-faceted crystal, absorbing and refracting light in new and original ways.
The Eight Dimensions of the title is for our eight different views of the world. As mature women, we have many shared perspectives, with common influences and experiences; yet we have also each established a path of we own. For the last six months, we have been exploring new directions. Come and check out where we are going!