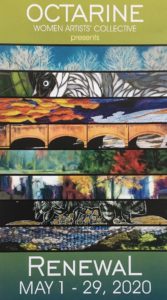 Life begins anew in spring, a fitting time to present our 2020 exhibition titled "Renewal".
The exhibition and sale of new works takes place from May 1 to 29, 2020, at Kloepfer Gallery in downtown Guelph, Ontario.  The public is invited to an opening reception with artists present, on Saturday, May 2 from 7:00 to 9:00 pm.
Participating artists in this year's show are: Judy French (oil); Carol Hughes (watercolour); Kim Johnston (water media, pastel and oils); Jean Loney (glass mosaic); Gail Root (oils and chalk pastel); M. Anne Smith (textile and fibre arts); plus new members Dianne Kennedy Cruttenden (woven tapestry); and Heather Wood (glass and mixed media).